Are you an affordable housing provider looking to retrofit existing units or construct energy-efficient new builds? FCM's Sustainable Affordable Housing (SAH) initiative is collaborating with organizations across Canada to create more sustainable communities through the Regional Energy Coaches (REC) pilot project.
These coaches will help affordable housing providers – including municipal, not-for-profit organizations and housing co-operatives – initiate and plan energy efficient retrofits and new builds. From project management and technical support, to walk-through energy assessments and one-on-one coaching, RECs will:
guide you through the process of identifying opportunities and evaluating the feasibility of energy retrofits,
demonstrate what technologies you can leverage,
provide insights on how to maximize the environmental impact of your project,
support the preparation of a successful funding application,
and more.
Discover how you can access this unique coaching opportunity and get your energy efficient project started through one of our partners:
Launched in November 2020, the REC project is a two-year pilot focused on supporting providers in British Columbia, the Prairies, and the Atlantic and Quebec regions, as well as the co-operative housing sector.
What kind of help can Regional Energy Coaches offer your organization?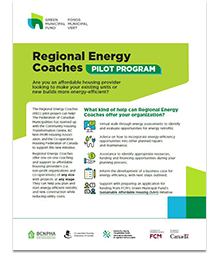 No matter where you are in your housing project, Regional Energy Coaches may be able to offer a service that fits your needs! Check out this one pager with a detailed explanation on how the process of getting help works and how to contact a REC.
Want to learn more?
Check out RECs in the news: 
FCM's Sustainable Affordable Housing initiative is delivered through our Green Municipal Fund and funded by the Government of Canada.
…I value the work that we do together. The coach's assistance and advice has been invaluable for moving our projects forward and making ours a better world in which to live through co-operation, advice, connections and extremely organized and timely assistance."

– BC Housing Society
…thank you to the Centre for connecting CMHC, FCM, and our team together this morning to talk about how our organization continues to move towards expansion and/or renovation of our housing. Our team got so much out of that session and it could not have happened without your facilitation."

– Housing Provider