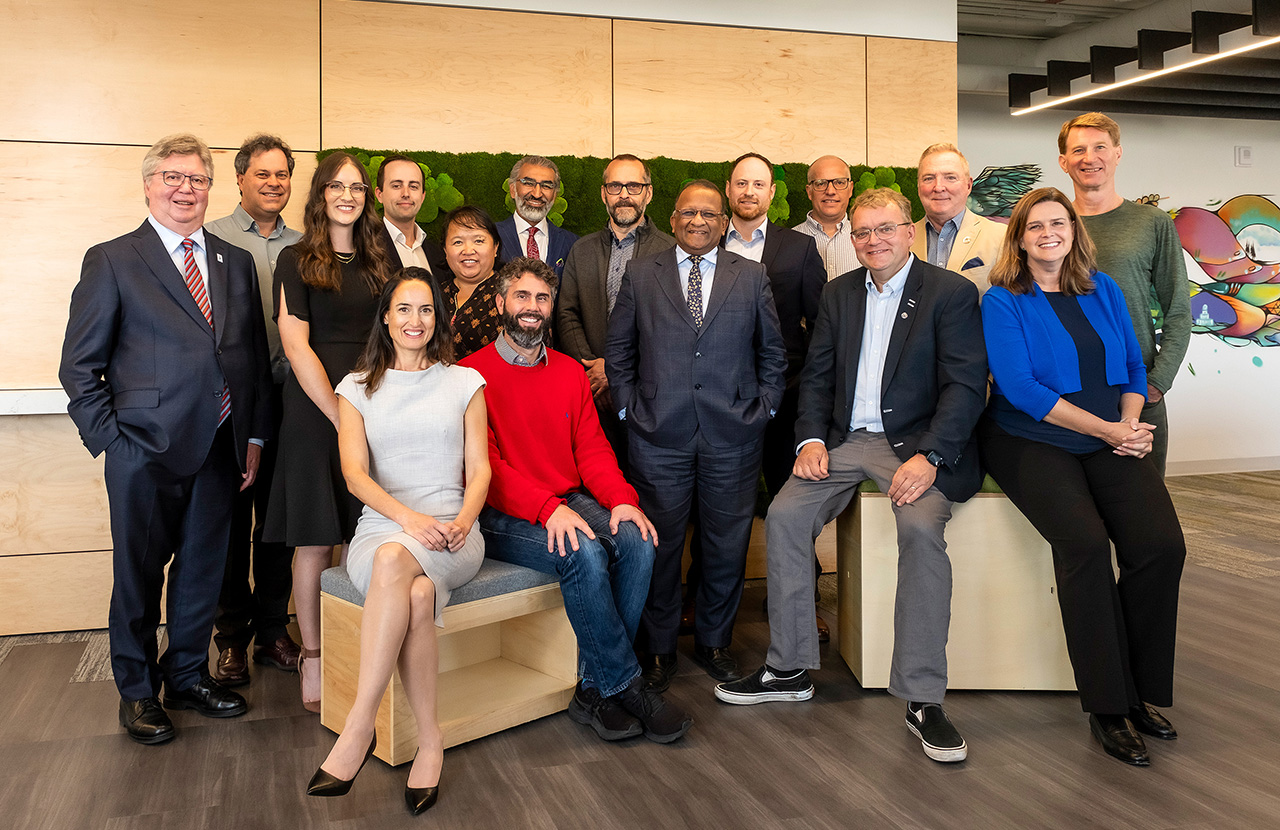 The Green Municipal Fund (GMF) Council does critical work to guide and support GMF, a fund that invests in innovative and effective environmental programs across Canada. The Council also provides advice, as required, to FCM's Board of Directors.
The members of the GMF Council are leaders from the federal, municipal and environmental sectors. One-third of Council members are Government of Canada representatives, one-third are elected municipal officials appointed by FCM's Board of Directors, and one-third are external members representing the public, private, academic and environment sectors. We're proud to have these innovators and champions of environmental sustainability on the GMF Council.
Members representing the municipal sector
Alan DeSousa
Mayor DeSousa is serving his sixth term as the Mayor of Saint-Laurent, QC and has served on the City of Montreal's executive committee for over 11 years. He also served on the Montreal Metropolitan Community (MMC) council from 2002 to 2017 and was a member of the MMC executive committee for eight years. In 2022, he was named Chair of the Green Municipal Fund Council. Mayor DeSousa is the architect of Montreal's sustainable development and environmental policies, taking them from planning to implementation. Under his leadership, Saint-Laurent became sustainable municipal territory in 2019 and became the same year the first Québec municipal entity with over 100,000 residents to complete the final phase of the Partners for Climate Protection (PCP) program.
Jennifer McKelvie
Jennifer McKelvie is the Toronto City Councillor for Ward 25, Scarborough Rouge-Park. She has been designated as the Mayor's Resilience & Environmental Champion and in that capacity has taken an active role in the City of Toronto's climate change, resilience and ravine strategies. Before entering politics, Jennifer managed research partnerships at the Nuclear Waste Management Organization (NWMO) and the Canadian Institute for Advanced Research (CIFAR). She obtained her training as an environmental geoscientist at the University of Toronto (PGeo, PhD).
Shanon Zachidniak
Shanon is serving her first term as the Ward 8 City Councillor in Regina, SK. In that role, she is the co-chair of the Community Advisory Group for the city's Energy & Sustainability Framework. A passionate community builder, her work has included management roles with several organizations. She has a Master's degree in Environmental Studies and a Bachelor's in Journalism. She has served on the board of several non-profits and is the founder of Regina's award-winning EnviroCollective & co-founder of Food Regina. Shanon and her husband, John, have two sons—Wylie and Ivan—and a dog named Penny.

Waye Mason
Waye Mason is a community leader, entrepreneur and educator and municipal councillor. Re-elected to his third term as Councillor in 2020, he is known for his social media savvy and relentless constituency work. Waye has grown businesses, led member organizations and developed the arts and culture sector in Nova Scotia for over two decades. His career in the music industry spanned artist development to live event production, and he has become a well-known business and strategic consultant both inside and outside the cultural sector. As Councillor, he currently serves as a board member of the Halifax Partnership, Chair of the Transportation Standing Committee, and as Regional Council's Indigenous Community Liason, as well as other advisory committees of Council. Born and raised in Dartmouth, Waye lives in Halifax with his wife and two children.

Gabrielle Blatz
Gabrielle Blatz was first elected to city council in Wetaskiwin, Alberta in 2019. As a Metis woman, she has always had deep roots and passion for environmentalism. With her role on council, she has been able to transfer that passion for the environment into her community. In 2021, Wetaskiwin became home to an edible urban forest after she highlighted the benefits of urban forests in a presentation. This became the catalyst in her career for exploring ways for smaller municipalities to become leaders in accessible sustainability practices. Climate action, sustainability and green initiatives are the future of our country, and it will take communities of all sizes to make a positive impact on generations to come.
John Henderson
Mayor Henderson is a Chartered Professional Accountant and entrepreneur with over 40 years of experience, and he is a strong supporter of creativity and innovation in developing real-world solutions. In October 2022, he was elected Mayor of the District of Sechelt, BC for the second time. During his time as Mayor from 2011-2014, the District designed and built the award-winning Sechelt Water Resource Center. Mr. Henderson has been very active in community and volunteer endeavours including being the co-founder of the Sunshine Coast Electric Vehicle Association and former Chair of the Sechelt & District Chamber of Commerce.
Members representing the federal government
Jocelyn Millette Ph.D, P. Eng.
Director general of CanmetENERGY in Varennes since February 2019. CanmetENERGY is Canada's leading research and technology organization in the field of clean energy, namely in Buildings and Communities, Renewables, Industrial Processes and the world-leading RETScreen tool. From 1996 to 2019, he worked for LTE - the Hydro-Québec research institute's energy technology laboratory - as a researcher and later as the head of the LTE. His domains of expertise are energy conversion, heat and mass transfer and building physics.
Jesse Fleming
With the privilege of having worked at five different federal organizations, Jesse is a Director General at Environment and Climate Change Canada. He works collaboratively with colleagues and stakeholders from coast-to-coast-to-coast to design and deliver initiatives in support of Canada's climate change goals. Jesse has Bachelor's and Master's degrees in civil engineering as well as an Executive MBA. While a Professional Engineer and Certified Professional / Management Accountant, you would neither want Jesse to stamp your technical drawings nor do your taxes.
Jeff MacDonald 
Since 2021, Jeff MacDonald has been the Director General, Climate Change Adaptation at Environment and Climate Change Canada. His directorate includes climate change adaptation policy and the Canadian Centre for Climate Services and is responsible for the development and implementation of Canada's National Adaptation Strategy. Jeff has held several executive positions over the past 20 years at four federal departments and agencies. He is a skilled negotiator with international, intergovernmental and indigenous experience.
Lo Cheng
Director General of Environment and Infrastructure Policy at Infrastructure Canada, Lo Cheng advances low carbon, resilient infrastructure systems that serve communities. Previously, Lo was with Environment and Climate Change Canada where she negotiated internationally, developed policies and regulations and managed programs. Most recently, she established the Canadian Centre for Climate Services to provide Canadians with the data, tools, and training to incorporate climate in their decisions. Lo is an environmental engineer with a Master of Business Administration from Queens University.  
Will Meneray 
Will Meneray is a Senior Manager with Canada Mortgage & Housing Corporation (CMHC). Will leads a team of housing policy specialists focused on long-term policy planning for climate adaptation, affordability, and market stability in the housing sector. Will has more than a decade of experience working in finance and innovation, having previously worked as an Associate Partner with the global management consulting firm Oliver Wyman. He is a graduate of the Ivey Business School in London, Ontario.
Members representing the public, private, academic and environment sectors
Jonathan Frank
Jon has expertise in sustainability-focused finance, development, engineering, construction and M&A in the areas of renewable power generation, energy efficiency retrofits, geothermal heating and cooling, electric vehicle charging and energy storage. He has worked in start-ups, large private and public companies, and regulated financial institutions. Today, Jon is Vice President at StoneWood Group, a boutique executive search firm. Prior, Jon was Head of Clean Energy Finance at Vancity Community Investment Bank and Managing Director and Head of Project Finance at CoPower. In addition to GMF, Jon has served on several advisory committees on low-carbon strategies including the Canadian Green Building Council, the City of Toronto, and MaRS Discovery District.J
David Martin
David Martin has more than 27 years of experience in innovation, technology and business development across the utility, telecom, energy and water industries. He has worked in North America, Europe and Asia, and maintains strong roots in the North American utility sector.
Denis Leclerc
Denis Leclerc is President and CEO of Écotech Québec. He is also the Chairman of CanadaCleantech Alliance and of the International Cleantech Network. He has proven experience in issue management, public affairs, sustainable development and in relation with investors, socio-economic stakeholders and governments.
Tracey Forrest
Tracey Forrest is the Director of the Transformative Quantum Technologies program at the University of Waterloo and Chair of the NANO Research Centre Advisory Board of the National Research Council of Canada. Tracey brings domain expertise across energy, environment and high tech.
Graeme Hussey
Graeme Hussey is the Director of Housing Development for Centretown Citizens Ottawa Corporation (CCOC) and President of Cahdco. Cahdco, CCOC's sister corporation, is an Ottawa-based non-profit real estate development corporation. Cahdco develops affordable housing and provides consulting advisory services to non-profits developing real estate projects across Ontario.
Parminder Sandhu
Parminder Sandhu is an entrepreneur with over 25 years experience operating at the intersection of public policy needs and private sector innovation to deliver market-based solutions.  His experience includes starting and scaling businesses, managing investment portfolios, and public service.  He has served on several boards and advocates for governance, outcomes orientation, and being mandate driven.