Canadians are eager to find new ways to make their homes energy efficient, and to generate more renewable energy. Municipalities of all sizes are ready to help—but don't always know where to start.
Our $300 million initiative helps municipalities deliver energy financing programs for low-rise residential properties. Property Assessed Clean Energy (PACE), utility on-bill financing and third-party lending partnerships are just some examples of financing models used by municipalities delivering residential energy programming.
No matter what stage you're at, we can help you reach your environmental goals, bring jobs to your community and build better lives. Our new funding and learning resources can help your municipality achieve the following:
Create, launch and expand home-energy upgrade financing programs for low-rise residential energy projects.
Generate triple-bottom-line benefits:

Reduce GHG emissions, create energy savings and contribute to climate adaptation, water conservation and health and safety outcomes
Accelerate energy cost savings, improve housing affordability and keep the local economy moving
Increase home comfort, health and quality of life for residents
About CEF funding
FCM offers support throughout the delivery of a home-energy upgrade financing program through the following funding options: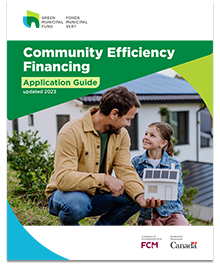 Studies: Explore your options, build on market research or assess program performance with feasibility, design and program evaluation studies 
Pilot projects: Test a smaller-scale version of your program in real-world settings; reserved for exceptional proposals that demonstrate clear market transformation potential and are otherwise ineligible for capital project funding
Capital projects: Access a grant combined with a low-interest loan or credit enhancement to implement a new program or scale up an existing model
Read our application guide for details.
Assess the potential for the types of home energy upgrade programs in your collectivity that would be eligible under FCM's CEF initiative. Read the CEF market guide.
FCM's Community Efficiency Financing initiative is delivered through our Green Municipal Fund and funded by the Government of Canada.
Featured resources
See featured resources, news, events and training related to Community Efficiency Financing.
Case studies
Read about initiatives your peers have run using GMF funding. Their stories are inspiring.
FCM Sustainable Communities Award winner – Energy Program
Read more
FCM Sustainable Communities Award winner – Energy Program
Read more
Have questions about Community Efficiency Financing?
Contact our Outreach team who can answer any questions you have relating to this funding opportunity.
Take me to CEF funding offer
Get funding to deliver home-energy upgrade financing programs for residential energy projects.

The Green Municipal Fund is a $1 billion program, delivered by the Federation of Canadian Municipalities and funded by the Government of Canada.