Primer for elected officials: Municipal Energy Roadmap
The solutions you need to reduce GHG emissions in your community

ENERGY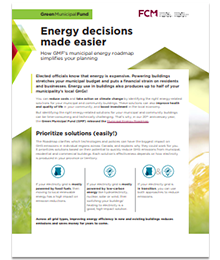 The Municipal Energy Roadmap helps identify the best solutions for Canadian communities to achieve significant GHG emissions reductions in their municipal and community buildings and meet their long-term sustainability objectives.
This primer for local elected officials outlines how the Energy Roadmap simplifies planning and makes energy decisions easier. It summarizes how the Energy Roadmap can be used to:
Prioritize solutions based on your region, grid type and other factors.
Explore workable options with GHG emission and financial impact estimates.
Clarify the advantages and challenges of each solution.
The primer also links to additional resources and funding information available to your municipality.