The City of Iqaluit, NU, rejuvenated its downtown core by transforming an abandoned and contaminated site into a popular and sustainable community hub
Results

794 tonnes
of CO2e expected to be reduced per year

30%
of water consumption expected to be reduced

38
jobs created
When major structural issues forced the closure of Iqaluit's municipal pool, the city's 7,740 residents were left without a central community space to get healthy and active and connect with each other. The City of Iqaluit envisioned a bigger and better replacement: a new, inviting and accessible community pool and fitness centre that would serve as a model of sustainable building practices for the city and other northern communities. 
Construction in Iqaluit carries with it unique challenges. With no road access, materials and equipment were brought in by sea. In response to a near-capacity landfill and lack of recycling facilities, contractors found ways to separate construction waste, diverting at least 70 percent of it by shipping it south for recycling.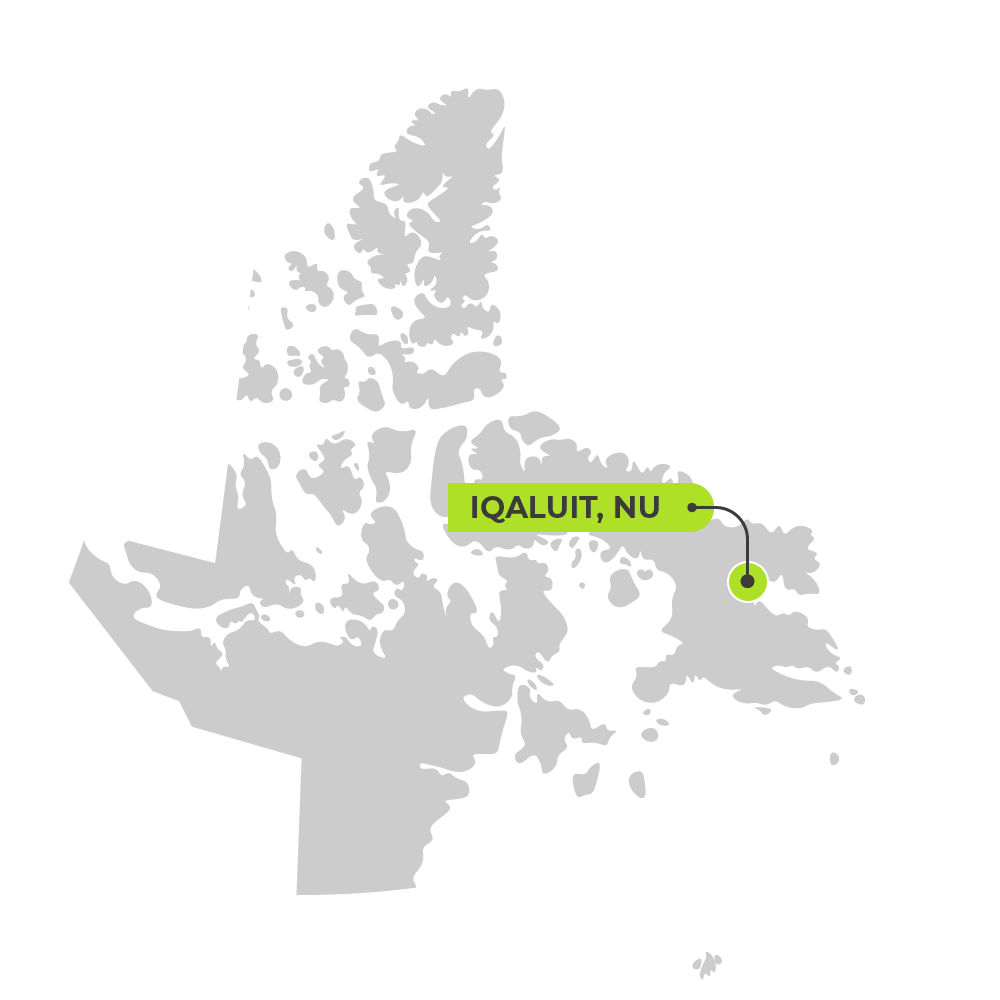 The site, abandoned since the 1940s, was contaminated with petrochemicals and required onsite remediation. The city had a pile foundation constructed above ground to allow air to circulate beneath the building, reducing its impact on the permafrost. 
The city plans to install a district energy system in the building to capture and recycle waste heat from the diesel generators that provide the city with electricity. This system, along with the building's high-performance envelope and other energy-efficiency features, is expected to reduce greenhouse gas (GHG) emissions by nearly 800 tonnes per year. Compared to traditional swimming facilities, the centre will consume up to 75 percent less heating oil and 10,397 gigajoules less energy per year. 
The city's new Iqaluit Aquatic Centre opened its doors to residents in 2017. Designed to achieve Leadership in Energy and Environmental Design (LEED®) Silver certification, the facility features a lap pool, a leisure pool, two saunas, a whirlpool, a multi-purpose room, an elders' room, a public fitness centre, a fitness studio and a take-out restaurant. The building design reflects both the natural and cultural environment, with paint colours inspired by the surrounding land, sea and ice; the use of sealskin in the seating area in the elders' room; Inuktitut signage throughout; and elements that reference Inuit culture. The centre employs 13 full-time workers, 25 part-time staff and a number of volunteers. 
The City of Iqaluit has created a unique example of how a community can come together to realize a vision for healthy living in a sustainable way. This welcoming community space stands as an impressive testament to perseverance and possibility. 
The Iqaluit Aquatic Centre has provided opportunities for health and fitness that have changed lives for the better. We are proud that our facility is a model for arctic sustainability and that it has made such an incredible impact on our community."

— Amy Elgersma, Chief Administrative Officer, City of Iqaluit
Want to explore all GMF-funded projects? Check out the Projects Database for a complete overview of funded projects and get inspired by municipalities of all sizes, across Canada.