This is part of a series of case studies on wastewater projects funded by the FCM's Green Municipal Fund. Each case study provides technical information, project details and tips on best practices.
Project overview
The City of Wetaskiwin, AB, retrofitted its aerated lagoon to improve the reliability, performance and capacity of the facility and ensure that it meets provincial environmental standards. The city replaced the facility's coarse bubble aeration equipment with fine bubble aeration technology. This allowed for more effective and efficient treatment of wastewater and reduced energy costs. Excess sludge from the lagoon is used as a source of nutrients for nearby agricultural land. More efficient blowers and an improved operating system have lowered operating costs. The reduced need for desludging the lagoon has resulted in lower maintenance costs.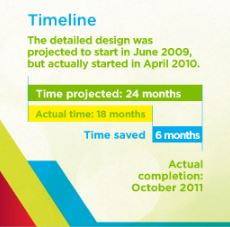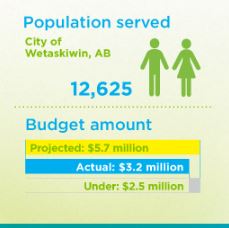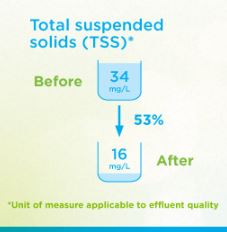 Reasons for the project
The existing system was aging.
The municipality needed greater wastewater treatment capacity and reliability.
The city needed to ensure that the effluents were in compliance with Alberta Environment and Parks regulatory requirements.
Innovative aspects of the project 
The modern technology installed in this major upgrade greatly improves the quality of the treated sewage and reduces operating costs.
Best practices and key lessons
The municipality's experience with this project demonstrates some best practices and key lessons that can inform similar projects.
Engage early and broadly
The city engaged the engineering department and communicated frequently. This helped the project team finish early and under budget. 
Include contingencies in the project budget and schedule 
Contingency planning will help reduce the increased costs due to inclement weather and implementation delays.
Project benefits
This project yielded a number of environmental, social and economic benefits. 
Environmental benefits
Reduced energy consumption: The city added variable frequency drives, which ramp up and slow down the motors depending on requirements, to reduce energy demands.
Reduced energy use: Energy consumption is reduced through energy-efficient motors and improved oxygen transfer.
Protected groundwater quality: New monitoring wells drilled around the facility enable early detection of leakage. This will protect groundwater quality.
Reduced chemical residuals: The upgrade enables the effluent to be treated to a higher quality without the use of chlorine disinfection.
Decreased soil erosion: Excess sludge is used as a source of nutrients for nearby agricultural land.
Increased ecosystem protection: Improved effluent quality, combined with earlier detection of leakage through new monitoring wells drilled around the facility, will protect the health of surrounding wildlife and ecosystems. 
Social benefits
Improvement of public health: By improving the effluent quality to ensure that it meets provincial standards, the project promotes human health.
Public education and awareness: After project completion, the City of Wetaskiwin embarked on a public education campaign to inform residents of the benefits of water conservation and energy efficiency, including the resulting load reduction on the facility and a long service life.
Improved level of service: The upgraded facility will not only provide reliable service for an estimated 20-year period, it will also better manage treatment peak loads and generally provide greater treatment capacity. 
Economic benefits
Reduced operating costs: Annual operating costs are reduced with more efficient blowers and operating systems.
Increased potential to attract new businesses: The plant's upgrade, which is estimated to support 20-year wastewater flows and loads, will support community development and revitalization by attracting businesses. 
Increased ability to attract new residents: The plant's upgrade, which is estimated to support 20-year wastewater flows and loads, will support community development and revitalization by attracting residents. 

Technical highlights
This project was a new facility. Technical highlights are current as of 2013.
Municipal population: 12,625
Urban/rural: urban
Treatment: Aerated lagoon with upgraded aeration equipment and design
Disinfection: None
Biosolids management 
Before: Accumulation in lagoon with periodic removal and disposal
After: Accumulation in lagoon with periodic removal for agricultural application
Annual average daily flow (AADF): 4.0 MLD (million litres per day)
Design capacity: 7.1 MLD
Per cent of total capacity used for AADF: 56 per cent
Biochemical oxygen demand (BOD)
Before: 11 mg/L
After: 6 mg/L
Project contact information
Peter Pullishy
Utilities Coordinator
City of Wetaskiwin, AB
T. 780-361-4436
Want to explore all GMF-funded projects? Check out the Projects Database for a complete overview of funded projects and get inspired by municipalities of all sizes, across Canada.