The City of Varennes, QC, is the first Canadian municipality to construct an institutional building that will soon produce as much energy as it consumes.
Results

120,000 kWh
of solar energy produced per year

27%
less water consumed

$80,000
in energy costs saved per year (once net zero is achieved)
When the City of Varennes' municipal library was no longer meeting provincial building standards or the needs of residents, the city decided to take a bold step forward and replace it with a "net-zero" energy library. The new library will produce as much energy as it consumes.
A cluster of research institutes are located in Varennes, including the federal CanmetENERGY Research Centre. Varennes made excellent use of this breeding ground for innovation and partnered with both CanmetEnergy and Concordia University's Solar Buildings Research Network in Montreal to plan the most sustainable building possible.
By March 2013, shovels were in the ground and Varennes was on its way to constructing Canada's first net-zero energy institutional building.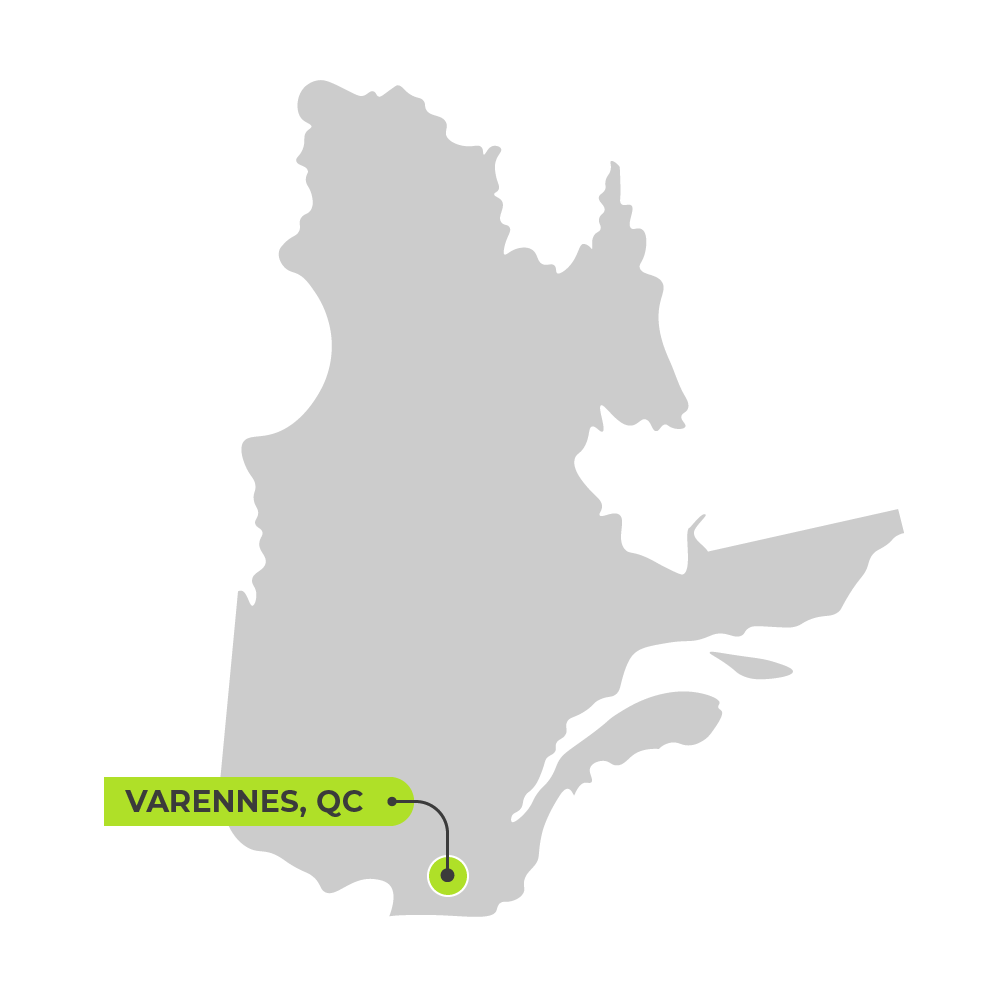 Completed in 2015, the library is a model of sustainable construction. It is built with sustainable materials and heated through a combination of solar panels and geothermal heat pumps. Up to 50,000 megawatts of excess solar energy can be returned to Hydro-Québec, for which the city receives a credit. Expansive windows provide abundant natural light, and some are motorized for natural ventilation. Low-flow toilets and taps have reduced water consumption by at least 27 percent. 
The building has Leadership in Energy and Environmental Design (LEED®) Gold certification and is on track to reach net-zero energy by 2021. When it does, it will reduce its energy consumption by 2,975 gigajoules per year and save $80,000 in annual energy costs.  
The two-floor building has a total area of 2,000 square metres and is an accessible environment in which community members can learn and discover. The new library includes an activity room, work spaces, a reading room, a family and breastfeeding area, a computer lab, listening and viewing stations, and a multi-purpose space. Attention was paid to every detail, including heated floors and shelving aligned with the windows for light. 
Armed with a wealth of new knowledge after completing this project, the city takes every opportunity to showcase its lessons learned—regularly sharing data and knowledge to help other communities achieve their own sustainability goals.
The City of Varennes plans to apply similar sustainability standards to future municipal buildings. 
A dream come true! This is the best way to express the feeling of pride the elected officials and citizens of Varennes have about this great achievement. [This project] will change the way public buildings are constructed for the future."

-Martin Damphousse, Mayor of the City of Varennes
Want to explore all GMF-funded projects? Check out the Projects Database for a complete overview of funded projects and get inspired by municipalities of all sizes, across Canada.