Summary
Long-term savings in utility costs fund the major energy-efficiency retrofit of seven community-housing buildings, improving indoor air quality and comfort for 1,500 residents.

Project
Retrofit of seven community housing buildings

Construction
2015–2017 (multiple phases)

Owner
Toronto Community Housing Corporation

Cost
$5.6 million

Affordable Housing
1,237 households
7 buildings ranging from 4 to 19 storeys

Developer
The Atmospheric Fund

Partners and Funders
The Atmospheric Fund
Toronto Community Housing Corporation
City of Toronto
Federation of Canadian Municipalities
Enbridge Gas Distribution
Ecobeex

Engineering and Construction
Ecosystem Energy Services (Montréal)
Context
Most of Toronto's 2,200 community-housing buildings, built in the 1950s and 1960s, are in dire need of renovations.
To minimize energy consumption and environmental impacts, and to improve resident comfort and indoor-air quality, Toronto Community Housing Corporation (TCH) partnered with The Atmospheric Fund (TAF), a regional climate agency that invests in low-carbon solutions. During a multi-year project, the partners retrofitted seven social housing buildings, aiming to reduce greenhouse gas emissions by 30 per cent and utility costs by 20 per cent. The project is part of the City of Toronto's larger Tower Renewal strategy to revitalize aging postwar apartment buildings.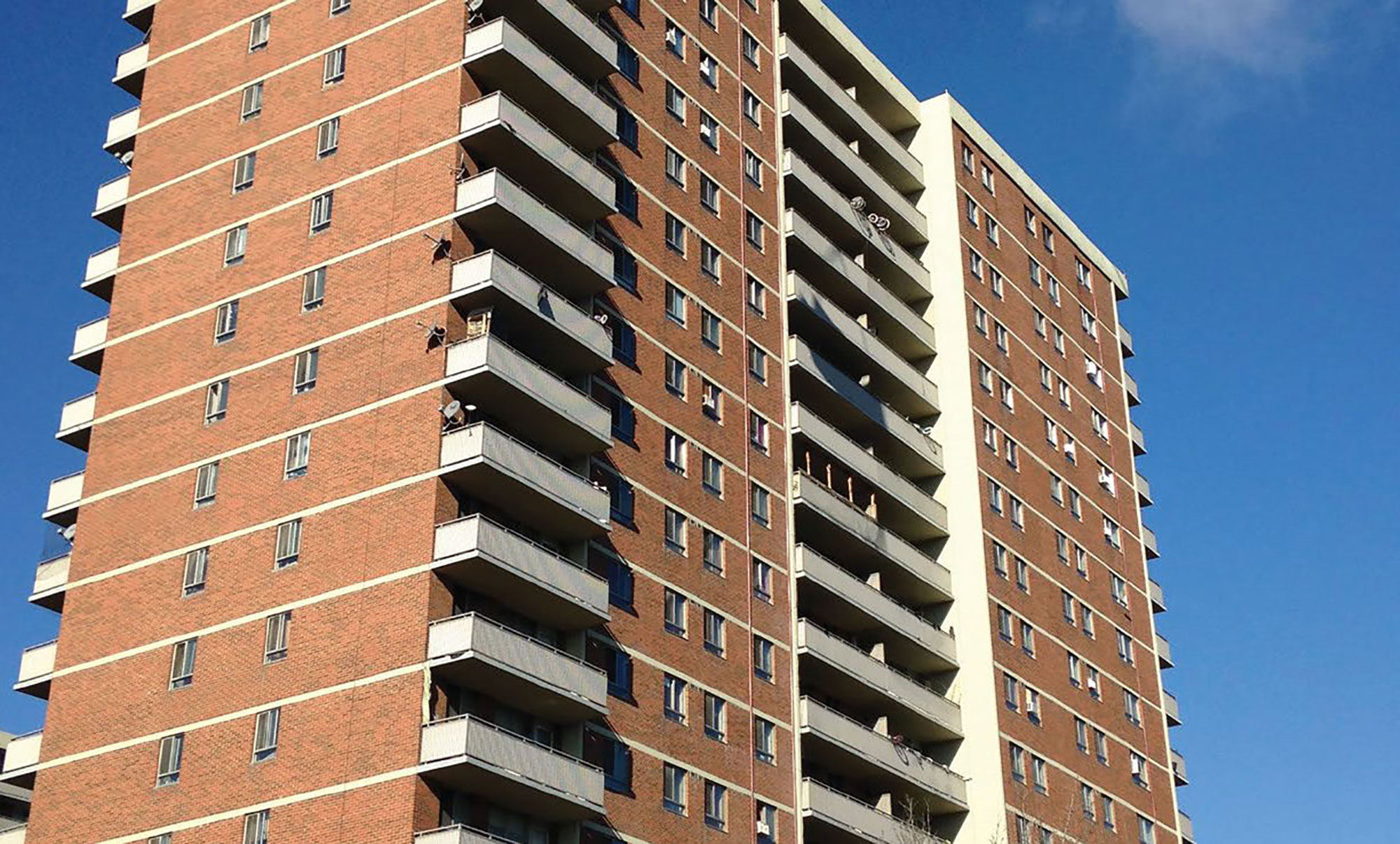 Approach
TAF and TCH signed an Energy Savings Performance Agreement™ to finance and implement comprehensive energy retrofits in seven TCH buildings. Verifiable long-term savings in utility costs finance the retrofits. TAF developed and posted a request for proposals that included design, implementation and verification of results. Montréal based Ecosystem Energy won the contract.
Design charrettes involved tenants, project partners, stakeholders and industry experts from the Tower Renewal Partnership, University of Toronto and National Research Council Canada. Significant research, including tenant surveys and on-site testing, informed the project. Tests revealed that inadequate ventilation systems produced airflows more than 40% below current building-code requirements. Uncomfortably warm indoor temperatures due to oversized and poorly controlled boilers caused tenants to leave windows open during winter, wasting energy.
The team installed energy-efficient equipment and monitoring technology, including smart thermostats and properly sized boilers. The retrofit doubled the volume of fresh air in the buildings, providing an immediate and noticeable improvement for residents. The replacement of leaky toilets also generated significant additional savings, while lighting retrofits improved public safety and wayfinding.
A resident-engagement program informed tenants about the project's progress and taught them to properly operate thermostats. TCH plans further tenant engagement to showcase and celebrate energy-saving behaviour.
Through a partnership with Building Up, a non-profit organization that trains people facing employment barriers, the project hired 12 community members on a short-term basis. The workers assisted with installation and trained residents in proper thermostat use.
By integrating design and implementation, this project cost-effectively reduced energy consumption and GHG emissions, while improving tenant comfort and air quality."
– Bryan Purcell, The Atmospheric Fund
Environmental Measures
High-efficiency boilers, motors and lighting
Heat-recovery ventilation
Low-flow faucets and toilets
In-suite air-quality monitors and thermostats
Gas-absorption heat pumps (for one building's hot-water system)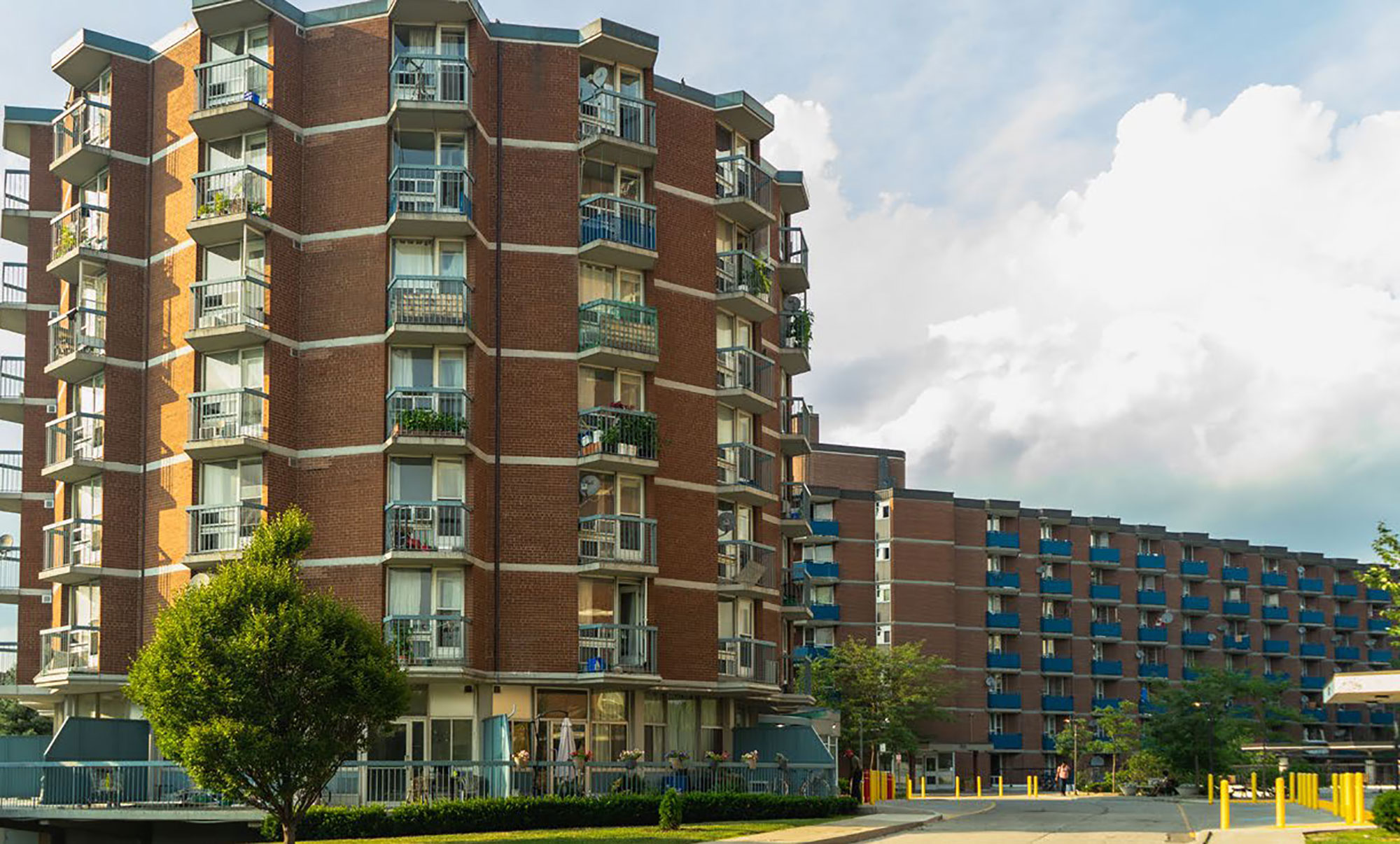 Results
The project reduces utility costs by more than $500,000 per year and GHG emissions by the equivalent of 963 tonnes of CO2, and is expected to yield a 364% return on investment during the 10-year partnership. Supply of fresh air has increased by 75–100%.
Energy Savings by Building
Revised baselines and projections were adjusted for weather normalization of base year and operational changes (e.g. changes to thermostat settings, and in numbers of installed lighting and plumping fixtures, etc.).
Building
Energy
Source
Pre-Project
Baseline
Consumption
Anticipated
Energy
Consumption
After
Project
Completion
Revised
Baseline
if applicable
Revised
Anticipated
if applicable
Actual
After
Project
Completion
Net
Anticipated
Reduction
Net
Actual
Reduction
GJ/yr
GJ/yr
GJ/yr
GJ/yr
GJ/yr
GJ/yr
GJ/yr
101
Kendleton
Dr.
Electricity
1,850.6
1,550.3
1,853.4
1,553.1
1,494.9
300.3
358.5
Gas
4,434.7
1,549.5
5,824.9
2,939.7
4,106.7
2,885.2
1,718.2
121
Kendleton
Dr.
Electricity
1,671.5
1,400.2
1,674.0
1,402.8
1,350.2
271.2
323.8
Gas
4,005.6
1,399.6
5,261.2
2,655.2
3,709.3
2,606.0
1,551.9
111
Kendleton
Dr.
Electricity
494.6
414.4
495.4
415.1
399.6
80.3
95.8
Gas
1,185.3
414.2
1,556.9
785.7
1,097.6
771.2
459.2
7
Arleta
Ave.
Electricity
2,792.0
2,482.3
3,006.9
2,697.2
2,672.1
309.7
334.7
Gas
7,541.7
4,053.7
8,610.4
5,122.4
6,266.1
3,488.0
2,344.3
11
Arleta
Ave.
Electricity
2,411.9
2,144.3
2,597.5
2,330.0
2,308.3
267.5
289.2
Gas
6,514.9
3,501.8
7,438.1
4,425.0
5,413.0
3,013.1
2,025.1
710
Trethewey
Electricity
5,710.8
4,477.9
5,910.4
4,677.5
4,578.9
1,232.9
1,331.5
Gas
13,260.9
11,039.8
16,238.4
14,017.3
13,468.5
2,221.1
2,769.8
720
Trethewey
estimated
Electricity
6,657.2
5,219.9
6,889.8
5,452.6
5,337.7
1,437.2
1,552.1
Gas
15,458.4
12,869.3
18,929.3
16,340.2
15,700.4
2,589.1
3,228.8
Source: 2018 Environmental Results Report submitted to FCM pursuant to funding agreement
Lessons Learned
Finance retrofits by leveraging savings in long-term utility costs.
The 10-year agreement gave all three parties an ongoing stake in the project's success. All three parties are motivated to solve any problems that arise.
Integrate project design and implementation.
A more typical approach to project design and implementation involves dozens of requests for proposals and contracts with numerous parties. This complicates contract management and accountability. Although integration requires additional time and effort during design and planning, it produces superior results.
Collect and analyze data before and after retrofit.
Preliminary research informed multiple aspects of the project. The fact that overheating resulted in the wastage of 20% of heat energy helped to make the case for installing in-suite heating controls, for instance. And the finding that leaky toilets accounted for 20% of total water consumption informed the decision to install ultra-low flow, leak-resistant toilets and fixtures. Continuous measurement and verification contribute to ongoing efficiency and potential improvements.
Engage with tenants before, during and after implementation.
Tenants represent an invaluable source of intelligence. Consulting with them during the design and planning stages helps identify what needs to be done and builds the goodwill needed to ensure the project's successful implementation and ongoing operation.
Take advantage of economies of scale.
Aggregating multiple measures in seven buildings enabled the project to realize economies of scale for both professional services (design, commissioning, etc.) and construction (e.g. reduced contractor-mobilization costs). While some buildings were unlikely to generate the post-retrofit savings needed to justify the investment, bundling them together achieved the overall targeted return on investment.
Prioritize resident comfort and health.
Research conducted prior to the project revealed that rather than complain about high indoor temperatures, many residents simply open their windows, exacerbating temperature-control issues. Installing in-suite heating controls helps to maximize both comfort and energy savings.
Contact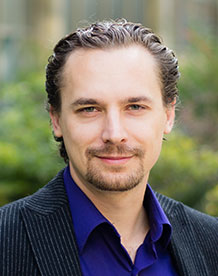 Bryan Purcell
Vice President of Policy and Programs
The Atmospheric Fund
416-393-6358
bpurcell@taf.ca
Want to explore all GMF-funded projects? Check out the Projects Database for a complete overview of funded projects and get inspired by municipalities of all sizes, across Canada.