Discover strategies and exercises to help you reduce waste and reuse materials
By making the circular economy a key part of your municipality's waste strategy, you can tackle pressing environmental challenges like the climate crisis, biodiversity loss and pollution. In a circular economy, materials are reused and recycled rather than thrown away, which can improve climate resilience, increase productivity, create new economic opportunities and address social inequities.
To help elected officials and municipal staff in waste management and operations who are interested in developing and strengthening local circular economy initiatives, we've developed two resources to help you make the most of circularity.
One-pager: Build a circular economy initiative in your municipality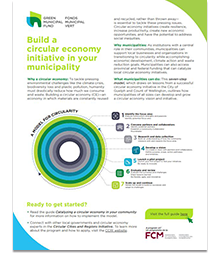 This introductory one-pager, Build a Circular Economy Initiative in Your Municipality, offers a high-level overview of the hows and whys of circularity. Read it to discover:
The benefits of circularity, reducing waste and reusing materials
The role municipalities play in supporting the circular economy
A seven-step model outlining how municipalities of all sizes can develop and grow a circular economy vision and initiative
Tool: A guide to catalyzing a circular economy in your community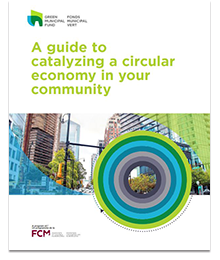 Once familiar with the basic concepts of circularity, read our Catalyzing a Circular Economy in Your Community guidebook. This is an active resource that is designed to help you transform what circularity can look like in your community. You'll find case studies and exercises to both inspire you and help you develop your circular economy skills and knowledge.  
This guidebook can help you:
Explore community strengths and overcome common challenges
Develop the vision and pathways to circularity
Evaluate your circular economy activities
Scale up and grow your circular economy initiatives
And more
You'll also find three worksheets to support you through the ideation stage of your circular economy. These step-by-step worksheets can help you identify:
Circular economy opportunities in your community
Potential partners and collaborators
Key steps for hosting workshops to outline what a local circular economy initiative can look like