Discover the members of the Peer-to-Peer Network

On June 15, 2021, the CCRI announced the 15 local governments and communities selected to participate in their new Peer-to-Peer (P2P) Network. Located from Whitehorse, Yukon, to St. John's, Newfoundland and Labrador, members of this Network have direct access to leading experts in the field and connect with local governments and communities across the country, develop their own circular economy roadmaps for their local regions, and much more. Learn more about the participants and the P2P Network today.
Local communities have a unique role to play in accelerating the transition to a circular economy. Cities and regions are leading the way in this transition, acting as hubs for innovation and culture, and engines of economic activity.

The Circular Cities & Regions Initiative (CCRI) aims to advance circular economy knowledge sharing and capacity building in Canadian cities and communities of all sizes. This one-year pilot was created and developed by the Federation of Canadian Municipalities' Green Municipal Fund (GMF), the National Zero Waste Council, the Recycling Council of Alberta and RECYC-QUÉBEC.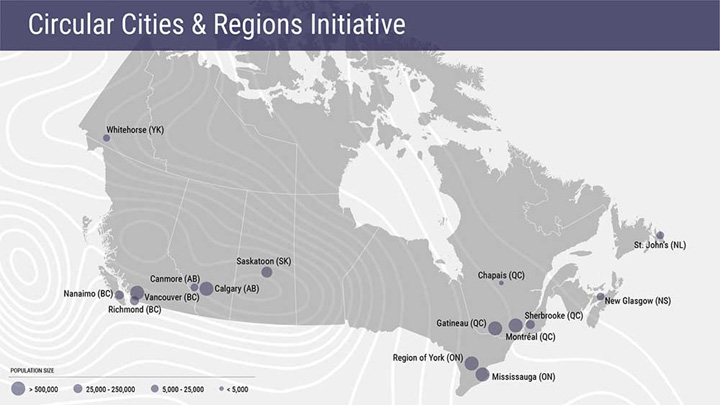 Through direct support, locally focused guidance tailored to their needs, and access to a peer network that encourages and fosters collaboration amongst participants, those taking part in CCRI have the opportunity to:
learn how to get started and to embed circular economy approaches in their respective communities;
access one-on-one mentoring and workshops offered by circular economy experts in Canada and worldwide, to support and advise on the development of their local circular economy roadmap; 
identify benefits to the members of their communities, challenges to overcome and opportunities during this transition;
collect lessons learned and best practices to support the future transition of other cities and regions to a circular economy;
access monthly peer-to-peer (P2P) workshops that bring together participating communities to exchange ideas with peers across the country, while embarking on their own unique circular economy journey.
Want to learn more about circular economy?
Interested in learning more about how the circular economy can come to life in cities and regions? Review the CCRI webinar recordings featuring speakers from leading organizations and global cities. Webinars are delivered in English with French simultaneous interpretation. Watch the recordings today.
For more information on CCRI, please visit canadiancircularcities.ca
Still have questions?
For more information about CCRI and the Peer-to-Peer (P2P) Network, please contact info@canadiancircularcities.ca.
Tell us about your experience on our new site! We'll be adding new content and improving greenmunicipalfund.ca throughout the coming weeks. If you find the site useful, or can think of ways to improve your experience, we invite you to get in touch with us.