To reduce its GHG impacts, the Town of Banff replaced its diesel transit buses with hybrid biodiesel-electric models, becoming the first municipality in Canada to run an all-hybrid fleet. 
Results

1,180 cubic metres
of water saved per year

1,341 tonnes
of CO2e avoided per year

16
new jobs created
The Town of Banff is at the centre of a world-famous national park and World Heritage Site. Because of its high level of tourism and reliance on car travel, the town generates significantly more greenhouse gas (GHG) emissions than an average community of its size. To reduce its GHG impacts, in 2008 the Town of Banff replaced its diesel transit buses with hybrid biodiesel-electric models, becoming the first municipality in Canada to run an all-hybrid fleet. 
The fleet uses innovative technology to reduce fuel consumption, emissions and local air pollution. Features like accessible design and storage for bikes, skis and snowboards encourage visitors and locals alike to choose public transit over cars. Instead of advertising, the bus exteriors feature photos of local wildlife, and the interiors display messages about conservation.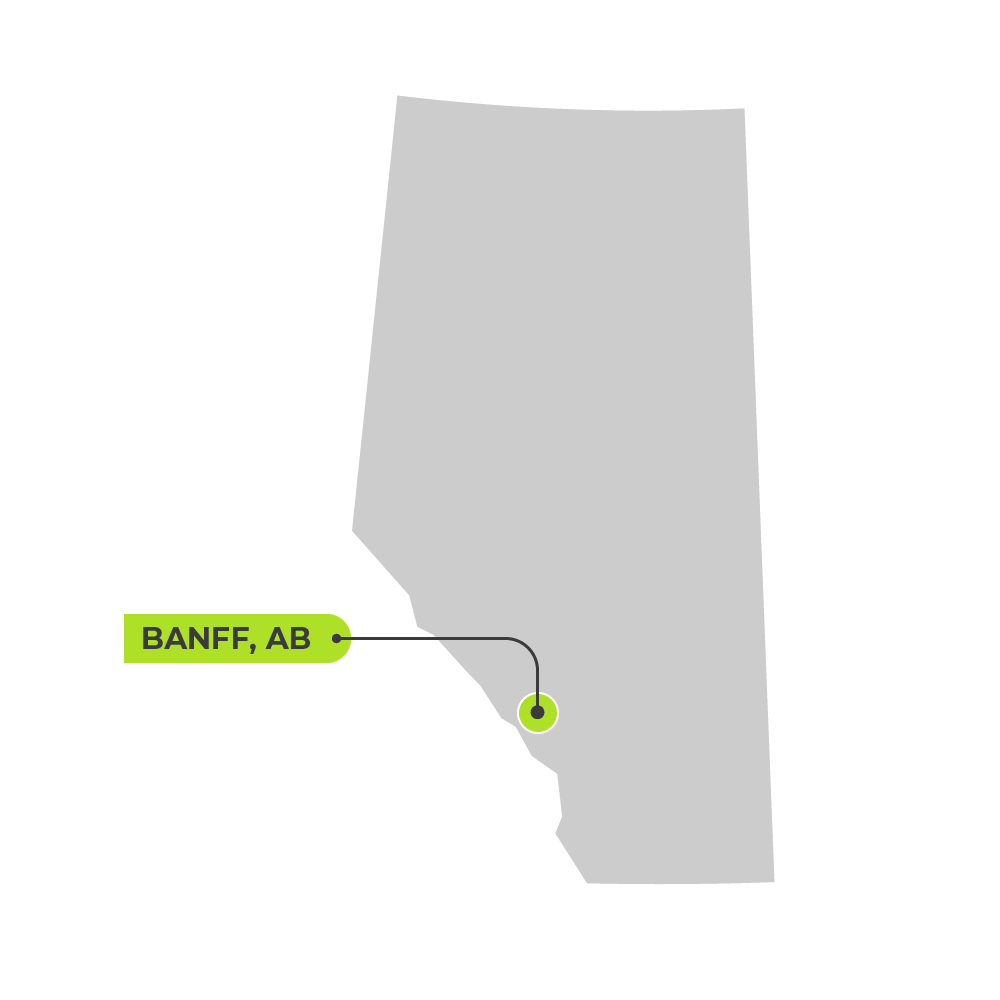 Watch this video of Michael Hay, Manager of Environment and Sustainability in the Town of Banff, as he discusses the ongoing story of Banff's hybrid bus fleet, Canada's first hybrid-green transit system.

With the new transit system in place, the number of bus passengers has doubled and GHG emissions have been reduced by about 24 percent. To house the buses, the town built a new storage and maintenance building, which has achieved Leadership in Energy and Environmental Design (LEED®) certification. The buses are anticipated to be in service for about 18 years—three years longer than originally projected.
As with any ambitious initiative, there were bumps along the way. One challenge involved the tight timelines in the six weeks before the official launch of the new transit system: buses were driven from Montreal to Banff and wrapped with wildlife graphics in Calgary, drivers were trained and electronic fareboxes installed, brochures were created and delivered around town, signs at transit stops were updated, and over 1,000 smart cards were initialized. While major efforts by a small team of city staff ensured that timelines were met, the town would allow for more implementation time were it to take on a project of this scope again. 
In the years since the introduction of the hybrid buses, a regional hybrid transit system has been born, connecting Banff to nearby communities, parks and ski resorts. Ridership and fleet growth have been so strong that a new energy-efficient 32-bus storage facility is now under construction. The facility will be home to the town's first electric buses, which will roll onto the streets of Banff in early 2021. 
Banff's new hybrid fleet has not only increased community pride and the tourism industry, it has confirmed the Town of Banff as a leader in sustainability.
Being an early adopter of this technology means that not everything will be perfect, but it helps create demand and drive the industry to keep improving."

Karen Sorensen, Councillor for the Town of Banff
Want to explore all GMF-funded projects? Check out the Projects Database for a complete overview of funded projects and get inspired by municipalities of all sizes, across Canada.