Six forward-thinking municipalities in Quebec have added electric vehicles to their fleets and made them available to residents and partners through a car-sharing system for municipalities in the region.
Results

10 + 10
electric vehicles purchased and charging stations installed

50.7 tonnes
of CO2e reduced during pilot, on average

$21,018
in gas savings for participating municipalities during pilot, on average
Duration of pilot project: 2016–2019
Without the population or resources to support public transit or other transportation services such as shuttles and taxis, small and medium-sized municipalities looking to reduce the use of personal vehicles in their communities need to get creative. In 2016, the Société d'innovation en environnement (SIE) and YHC Environnement started a pilot project to introduce an electric vehicle-sharing system, partnering with the municipalities of Plessisville, Nicolet, Bromont, Témiscouata-sur-le-Lac, Rivière-du-Loup and Sainte-Julienne.
Studies have shown that in Plessisville alone, three-quarters of the municipality's fleet was used less than 3.5 hours per day, 50 percent of the time. Most of the vehicles (87 percent) were used for trips shorter than 40 kilometres. The other five participating municipalities showed similar patterns, with fleets sitting idle in the parking lot for long stretches of time.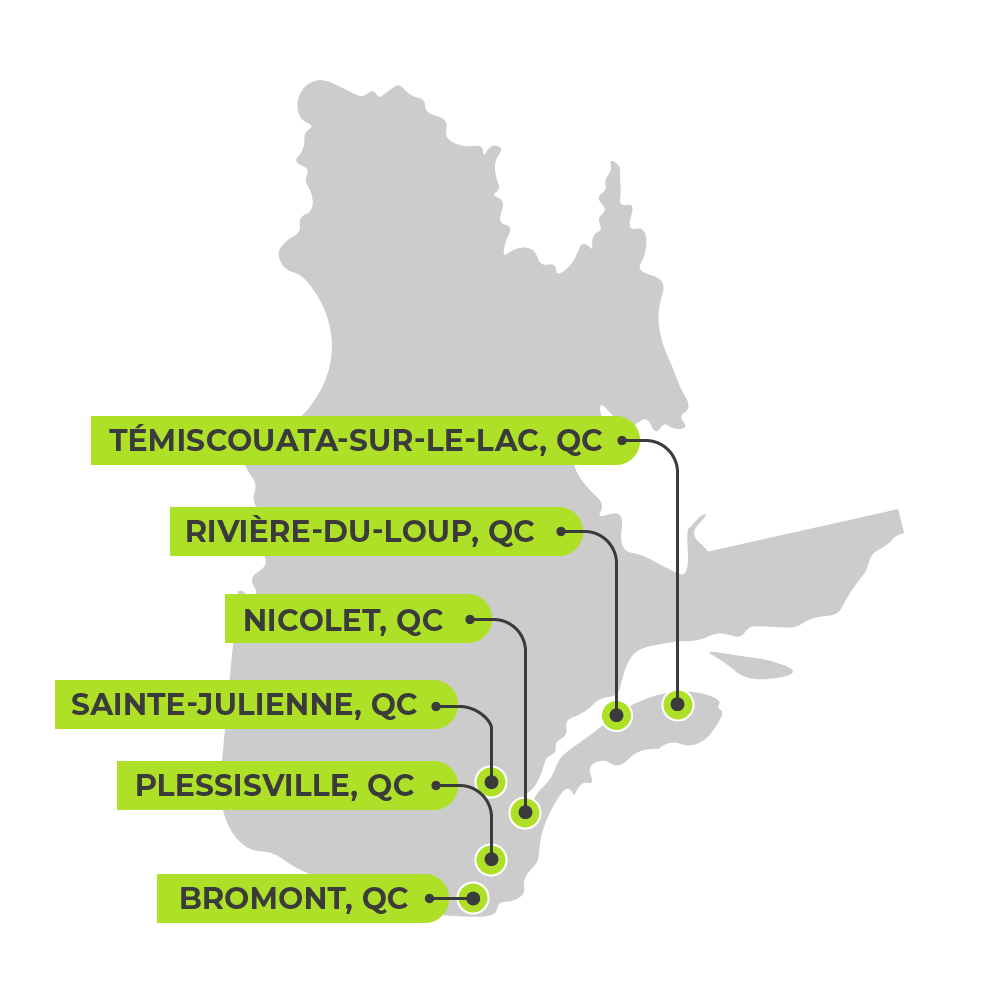 Check out this video featuring Johanne Ouellet, Vice-President YHC Mobility at YHC Environnement, as she discusses a new electric vehicle-sharing system, how it reduced greenhouse gas (GHG) emissions, and how it generated revenue for all six participating municipalities.

This pilot project tested the technical and economic viability of adding one to two electric vehicles to each municipality's fleet (for a total of 10 new vehicles) and making them available for sharing among municipal employees, residents and partners.
Each vehicle was equipped for the car-sharing system to optimize its use. Car-sharing software was developed to collect data, including the distance travelled by users, trip duration and frequency of use. The partners also installed 10 charging stations in the six participating municipalities. 
By the end of the pilot in 2019, the municipalities had collectively reduced their fleets' greenhouse gas (GHG) emissions by up to 59.5 tonnes of carbon dioxide equivalent (CO2e). They had also established a revenue-generating system that put the unused capacity of their fleets to excellent use. With the establishment of this electric vehicle network, the mentality and behaviour of employees and residents has changed in relation to both electric vehicles and car-sharing programs.
Other small and medium-sized municipalities have been inspired to follow suit. By the end of 2018, before the pilot was even fully rolled out, nine additional municipalities and one regional county municipality in Quebec had expressed interest in implementing a similar system. In New Brunswick, five municipalities are also participating in a pilot project of the same system. 
This successful pilot and the significant community interest it inspired are promising steps toward achieving the goals outlined in Quebec's action plan to electrify transportation in the province, Propelling Québec Forward with Electricity: Transportation Electrification Action Plan 2015–2020. Through this plan, the province aims to increase the number of electric vehicles in its fleets, reduce GHGs and dependence on oil, and contribute to Quebec's economy by supporting a growing industry and using the electric energy available in the province.
I like [the program] because I don't have a car, I have a motorcycle, so it's perfect for grocery shopping and everything. When it rains, it's very convenient and not too expensive, so I love it and strongly recommend it. I can pick up my grandchildren for a walk and ice cream."

—André Godon, Nicolet resident
Want to explore all GMF-funded projects? Check out the Projects Database for a complete overview of funded projects and get inspired by municipalities of all sizes, across Canada.