Project type
Amount
Community
Capital project

Loan: $1 million
Grant: $100,000

Sydney and Glace Bay, NS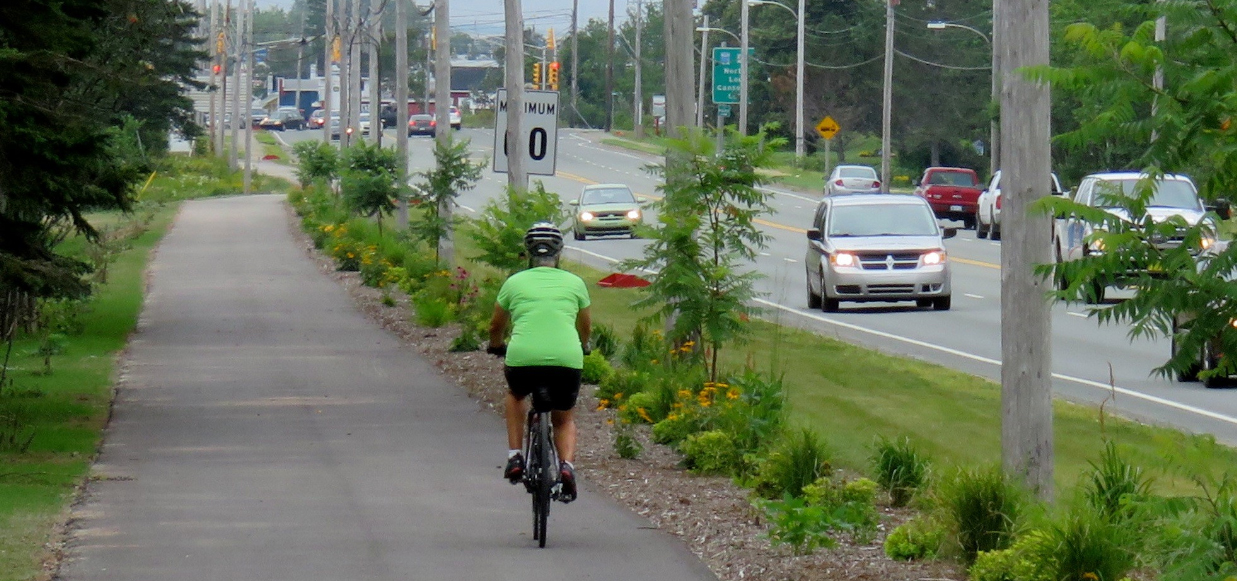 Bike paths are an anomaly in Nova Scotia, and this project was the largest component of the Cape Breton Regional Municipality's (CBRM) Active Transportation (AT) plan. In 2007–2008, it carried out public consultations, including focus groups, five public open houses and an online survey. An advisory committee met regularly after the study to monitor the project's progress. Its representatives included:
The municipality
The Nova Scotia Department of Transportation
Velo Cape Breton
The Regional Health Authority
Mayflower Mall
Cape Breton University
Heart and Stroke Foundation
The path is expected to:
Remove 1,240 vehicles from the road
Reduce vehicle kilometres travelled by 7,936,000 per year
Reduce greenhouse gas emissions by more than 1.5 million kg of CO2e per year
Stimulate economic growth by increasing interaction between Sydney and Glace Bay, as well as the university
Serve approximately 4,000 students and 450 staff at the university
Serve approximately 1,400 students and 170 staff at the Nova Scotia Community College (Marconi Campus)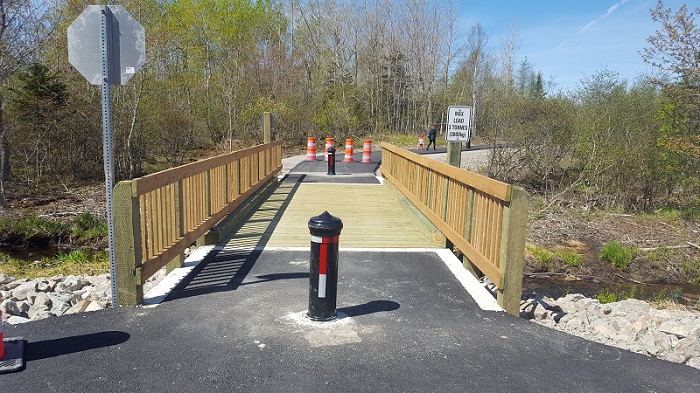 Many of their design suggestions were incorporated into the final plan
The 10-kilometre multi-use path links Sydney, Glace Bay and Cape Breton University. It's an off-road, AT corridor, where people can walk, bike, inline skate or skateboard with minimal vehicular interactions. It's a safe alternative transportation route in a corridor that was previously served only by the Grand Lake Road–a four-lane highway. The pathway is wheelchair accessible.
"I think this project truly showed that we can make huge improvements in our communities if we apply ourselves and commit to the implementation of our AT plan. My hope is that people will realize the potential we have in regards to converting existing rail beds and trails into functioning AT corridors."
— Malcolm Roach, Operations Supervisor, Public Works East, New Waterford and Area, Cape Breton Regional Municipality
This new route will enhance Mayflower Mall's economic viability by connecting it to nearby residential areas. It's the region's largest shopping centre. The 570 students living on campus can now access shopping and employment opportunities by bicycle, reducing their personal travel costs. Other students and university employees from Sydney and Glace Bay can now bike to campus.
"The feedback from our membership has been overwhelmingly positive... Though designed as a transportation corridor, it is proving to be recreational, especially for new cyclists and families with young cyclists."
— Andree Crepeau, Vice-President, Velo Cape Breton
Additional resources
Want to explore all GMF-funded projects? Check out the Projects Database for a complete overview of funded projects and get inspired by municipalities of all sizes, across Canada.