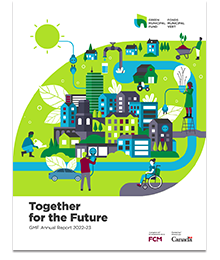 For over two decades, the Green Municipal Fund (GMF) has been a cornerstone in transforming Canadian communities into hubs of sustainability and innovation. Through dedicated funding and collaboration, GMF has championed local government efforts to counter climate change, enhance energy efficiency, and foster resilient infrastructure.
Our 2022-23 Annual Report, Together for the Future, delves into the tangible impacts and milestones achieved this past year, shedding light on how GMF initiatives are catalyzing profound systemic shifts, propelling Canada steadfastly towards its 2050 net-zero emissions goal.
Discover our impact. Read the full report today.